Goodyear Eagle F1 Asymmetric 3 Tyres Available in Belfast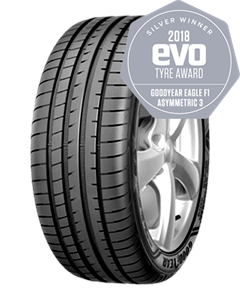 Eagle F1 Asymmetric 3
Shorter braking distance on wet & dry roads
With Active Braking Technology, the contact surface and grip increases when braking. This increased contact with the ground provides you with shorter braking distances on wet and dry roads.
Grip for braking and handling
The New Grip Booster compound used for the Eagle F1 Asymemtric 3, is made with adhesive resin to increase stickiness with the surface. This delivers better grip for braking and handling on wet and dry roads.
Steering precision and durability
New Reinforced Construction Technology delivers a stronger lightweight contruction improving handling, cornering performance, tread wear and fuel efficiency.