Falken Azenis FK510 Tyres Available in Belfast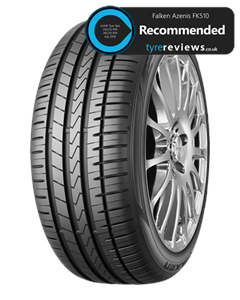 Azenis FK510
Falken's latest generation flagship tyre. Featuring an innovative, new compound, designed to maximize safety and enhance driver confdence.
Product Benefits
Outstanding wet and dry handling.
Confdence-inspiring levels of safety and control.
Exceptionally stable in high-speed corners.
Shorter braking distances.
Ranked Top 3 for "Best Car Tyre for Every Day Driving" – Tyre Reviews (2020)
Excellent, balanced results in the dry, with the shortest wet braking distances on test and good aquaplaning resistance. Low noise levels and well priced!
Ranked 1st for its performance in Wet and Short Dry Braking
There are 440 reviews for Azenis FK510
Overall rating
The tyres have been good value for money on honda civic type r, I would recommend the tyres to anyone.
Great tyres that perform very well in the wet. I would buy them again
Good tyre and reasonably priced although a bit noisier than my previous tyres.
Yep very good product Thank you